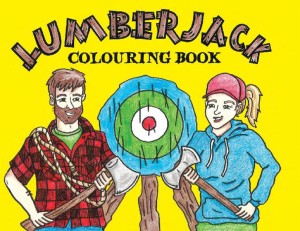 LUMBERJACK COLOURING BOOK
Now available! World champion logroller and 20-year veteran lumberjack Darren Hudson, of Barrington, Nova Scotia has released The Lumberjack Colouring Book, a 36-page collection of colouring fun, puzzles, and games for children of all ages, and the young at heart!
$10.95 each
TIMBER LOUNGE LUMBERJACK PLAID HAT
Crafted from a blend of polyester, rayon and spandex, the Flexfit Lumberjack Plaid Hat provides a comfortable fit and comes in sizes small/medium and large/xlarge.
The Timber Lounge Flexfit Lumberjack Plaid Hat is embroidered with our signature axe diamond logo and offers the utmost in durability and comfort while giving the cap connoisseur a must-have addition to their hat collection. Stand out from the crowd when you choose our Timber Lounge Hat !   $34.95 each